Context
UX Y'all is a UX conference for the Raleigh-Durham, North Carolina area. The first conference was a one-day, two-track event held in 2018 atht e Raleigh Convention Center. It was financially-backed by the Triangle UXPA and sponsored by several large software companies with local UX teams.
My Role: Conference Founder & Chair
As conference founder, I began by creating a Slack channel and inviting interested local UXers from my network. From there, momentum grew. I organized the volunteer team and defined roles and responsibilities based on the work that needed to be done. We selected a name, found a venue, worked through finances, and managed logistics such as website, catering, ticketing, and selecting speakers.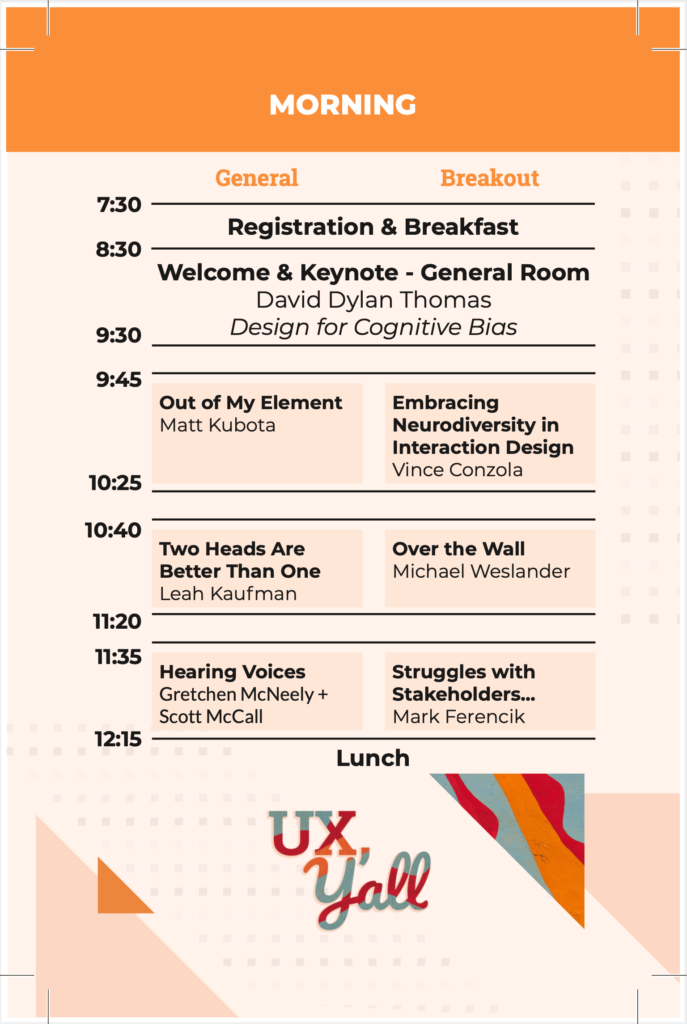 I designed the program to easily be inserted and viewed from reverse side of name tag pocket. Brand styling by Rebekah Resser.
Diversity & Inclusion
When determining our program, we committed to a conference where at least half of the speakers were female, and as many were from underrepresented groups as possible. All keynotes were female or from otherwise underrepresented groups for the first three years of the conference. Providing a platform for underrepresented groups remains a foundational pillar of the conference, and has helped enrich our conversations.
Outcome
The response for the first year of the conference was incredibly positive. The conference sold out of its 200 tickets well ahead of time, and we worked to get as many people from the waitlist in the doors as possible without overselling.
Attendance grew each subsequent year, including after the conference moved virtual due to the Covid-19 pandemic.
While I am proud of my role in bringing the conference to life, it is only possible because of the support from our community of UX practitioners and their enthusiasm and willingness to volunteer their time and energy.